New Campsites and Access Points Established Along the Connecticut River
Tuesday, November 15th, 2011
Paddlers heading down the beautiful and wild Upper Connecticut River have four new riverbank campsites and one new boat access to enjoy, thanks to efforts spearheaded by the Vermont River Conservancy (VRC) and several other organizations working to collaboratively develop the Connecticut River Paddlers' Trail.
The Paddlers' Trail links more than 35 primitive campsites between the Connecticut River's headwaters in northern New Hampshire south to the Massachusetts border. Since 2009 the VRC has been facilitating a joint effort with more than 20 regional partners to develop and manage the Paddlers' Trail. For more information about these campsites, or to sign up as a volunteer site steward, go to www.connecticutriverpaddlerstrail.org.
In addition to the VRC, organizations helping to develop these campsites and access points included the Vermont Land Trust, NorthWoods Stewardship Center, TransCanada Hydro Northeast, and Trout Unlimited, with support from the Tillotson Foundation, Vermont Fish and Wildlife, the Plum Creek Foundation, and the Upper Connecticut River Mitigation and Enhancement Fund.
The new sites, from north to south along the river are:
Holbrook Point Campsite, Lemington, VT: On land conserved by the VRC, this beautiful campsite is situated under a canopy of silver maples on the edge of a floodplain forest. It is in a bend in the river, about 1.3 miles south of the Colebrook, NH, bridge, about a day's paddle from Canaan, Vermont.
Lemington River Access, Lemington, VT: VRC worked with the Vermont Agency of Natural Resources and area fishing guides to develop a new river access on land owned by Plum Creek Timber Co. A NorthWoods Conservation Corps team worked with interns from Trout Unlimited to build a set of river access stairs, an information kiosk, way-finding signage and a ramp suitable for use by drift boats. Drift boats, popular for fishing the Connecticut, are heavier than canoes and more difficult to launch. The site is just south of the Columbia, NH, covered bridge.
Stevenson Campsite, Monroe, NH: VRC built the site on land opened to the public by the generosity of a farming family on a shady river terrace situated on the New Hampshire side of the river. The site is across from the north end of Stevens Island, 1.5 miles south of the Connecticut's confluence with the Passumpsic River. It has a picnic table, box privy, register box and way-finding signage to help paddlers locate the site from the river. It was built with a grant from Transcanada Hydro Northeast, operators of power dams on the nearby Moore and Comerford reservoirs.
Scott Devlin Memorial Campsite, Maidstone, VT: Working with the Vermont Land Trust, VRC constructed a site on the farm of Scott and Heather Lefoll. Its development was incorporated into a conservation easement. Seven volunteers built and installed access stairs, a picnic table, a fire ring, way-finding signage, a sign-in register, and a composting privy. It is named in honor of Scott Devlin, a professional pilot and aircraft builder, who loved the outdoors and died at 33 in an air crash.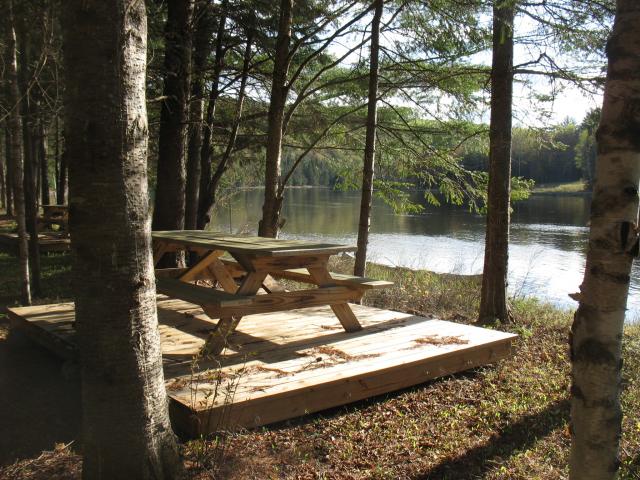 Dalton Primitive Campsite, Dalton NH: Developed by TransCanada Hydro Northeast, this new paddler campsite is in a secluded bay on the north end of Moore Reservoir. It includes several tent platforms.
Moore Reservoir Tailrace Primitive Campsite, Littleton, NH: Also developed by TransCanada Hydro Northeast, this paddler campsite is situated on river left, just downstream of Moore Reservoir. It includes several tent platforms nestled below a stand of red pines.